You think you know what to expect but you really don't.
I had a vision of the Nemunas Loops Regional Park (Nemuno kilpų regioninis parkas) as a sprawling area, a place needing vigorous hiking skills or better yet a car. The park is 25,171 hectares—a quantity that meant nothing to me. That's 61.8 acres, though, something I better grasp.
We had stopped at the Tourism Center in Birštonas and the charming young woman on duty seemed bemused by my questions. Later on my Dear One and I figured out why. We didn't really need directions to most of the sites I asked about, let alone wheeled transportation. The town with its parks, cemetery, church and museums is easily walkable. In fact, from point to point, distances are shorter on foot than they are by motor vehicle.
Birštonas sits at the heart of the Loops. It is a delightful town, a true spa town with hotels and sanatoriums, and springs producing curative waters that taste like decaying rocks marinated in sulfur. Water misted us as we stood in the dark passageway of a circular structure built of wood and twigs, a sensation that would have been even more magical on a hot and stressful day. Next door we filled our bottles with mineral water—tasted it, spat it out, and emptied the bottles.
Thanks to partnership with European Union agencies, this sleepy and historically minded town is creating an identity as a center of health, culture, history and nature. We visited the Birštonas Museum (Birštono Muziejus) with cousin Rimantas and were amazed at the fragile and ordinary objects that had nonetheless been preserved. The Sacral Art Museum (Birštono Sakralinis Muziejus), though, was closed as it was Thursday and we wandered into the precincts of St. Anthony of Padua church (Šv. Antano Paduviečio bažnyčia) next door.
It too was locked but a nearby forest of traditional carved-wood sculptures caught my eye. A contributor named "evaanna" on Virtual Tourist explains that:
The Hill of Songs is a collection of sculptures carved in wood illustrating Lithuanian folk songs. They were all created durng the Symposium of the Baltic States held in Birstonas in 1998. Their authors are Lithuanian, Latvian and Polish artists. To understand the sculptures, you should first realize that for the Lithuanians a folk song is a form of meditation and a symbol of their motherland. The sculptures represent ordinary people at work: a shepherd, men sowing or flailing, or women sheaving. The musicians are playing traditional Lithuanian instruments like the kankles, the drums, the accordion or the violin. There is also a carving of Neptune, the King of Songs and an angel with a trumpet announcing good news.
Just beyond the sculptures a couple of women dug flowers into circular beds within the geometry of a plaza-in-progress. Across the way workmen laid paving stones around a new sculpture, a sort of replica of the original springhouse where visitors came to sample that unpalatable water. A new bridge crossed a stream or canal. How beautiful it would be by summer, how wonderful a beer would taste at a restaurant table overlooking this plaza with its arcing shapes inlaid with stones, branches, cross-sections of wood, and grass.
Further queries gave me to understand that the project is a public-private partnership. Yes, the resorts and rest homes want to attract guests; yes, this is essentially a capitalist venture intended to profit investors. But base motivations do not preclude imaginative and humanistic vision. In this place, the traditions of Lithuanian elders have wed Millennial modernity, energy and hope in a joyous 21st-century polyamory.
And then we headed home to the Republic of Užupis, to our little apartment with the view over the Vilnia toward Gedeminas' Tower, loopy on the Nemunas Loops, watching for storks, our rented Jetta rolling past fields and over streams. We came to the crossroads at Aukštadvaris—which is to say, I sighted a grand church tower and My Dear One indulged my desire to pull over and look.
The tower belonged to what was once a Dominican church. A sign conveys information, fortunately in English as well as Lithuania. Žygimantas II, a.k.a. Sigimund Augustus, Grand Duke of Lithuania and King of Poland, made a gift of the town of Aukštadvaris to Jonas Alphonsos Lackis, an elected Elder of Samogitia from 1636 to 1646. An abbey and primary school were built there; after damage sustained around 1655, a new church was erected in 1674. In 1812 the church and abbey were partly burned and in 1832 Russians abolished the abbey and closed the school, turning the building into a military barracks. The church was rededicated to the Russian Orthodox faith. During World War I, Germans used the buildings to store grain. In 1919 the church was restored to Catholic worship and in 1923 a women's cultural society established a school of housekeeping for girls in the abbey. After World War II, Soviets closed the church; subsequently buildings were used for storage and a restaurant. Today the buildings are once again home to a religious community.
How had it survived at all?
It was a beautiful day and we had noticed a farmers market in the town square as we turned toward the church. There were fruit trees and flowers for sale, chickens, chicks and ducklings, šakotis (a crispy cake that looks like a tree), honey, cheese, potatoes and more. Someone had set up a stage and women dressed in traditional costume appeared to be competing in some sort of song and story activity. As we left, we paused to hear a fellow play his accordion. This appeared to be an ordinary Saturday, neither an extraordinary festival nor an event expected to draw tourists. It was just Aukštadvaris.
We got back on the road and immediately a second set of towers came into view—towers I remembered from our drive through a few days earlier. The Church of the Transfiguration. It is a wood church, one in most ways like Holy Mary of the Rosary in Balbieriškis, the church in our cousin's village that had burned. Signs outside suggested it was being repaired or restored as part of a larger cultural project. A few people came out and I quietly moved in.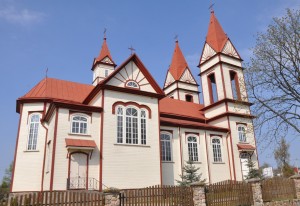 A service was underway and I did not want to disrupt anyone with the clicks of my camera shutter. Then a woman began to sing and others picked up the melody. The song went on and on, was still echoing as I slipped out the door. My friend Neringa later told me that the congregation was celebrating the Feast of Saint George. April 23 is the traditionally accepted date of Saint George's martyrdom in 303 CE but the day was April 25. Even saints, it seems, must wait for the weekend.
But we had to get on with our day and so we were on our way.