The novelist Federico Mocci (b. 1963) published a story in 2006 called Ho Voglia di Te ("I want you"), some variation on the star-crossed lovers theme, in which a doomed pair affix a lock to the Milvian Bridge in the northern suburbs of Rome as a symbol of their eternal devotion, and toss the key that could undo that love-lock into the Tiber.
It's the kind of romantic gesture that seems meaningful to teenagers and victims of arrested development.
Since then, locks have appeared on bridges and various public structures from Italy to France, London, Dublin and China. Look around. There are likely locks hanging off some surface near you. Various writers have probed the history of this fad, citing a narrative from World War II in which couples in Vrnjacka Banja, Serbia, sealed their love in just this way the night before the men left for battle.
This story was recounted by Dominic Utton, an author blogging for the Daily Mail on 13 July 2012. He and his wife Heidi were enjoying a Paris vacation, away from the kids for the first time in five years, when they discovered the railings of the Pont de l'Archevêché dense with locks engraved with various messages of affection. He said, "They glittered and sparkled in the sun — an oddly beautiful mosaic above the river…Naturally, Heidi and I…bought a padlock of our own, wrote our names and the date on it… and left our own symbol…We…chalked the whole thing up to the sort of experience you would only ever have in Paris."
Jackasses.
Would they have carved their initials into a sculpture on Rome's Trevi Fountain rather than tossing a coin over their shoulders? Would they have etched self-portraits into the Whispering Gallery of St. Paul's Cathedral in London? Would they have spray-painted a love sonnet on a blank end of the tomb of Abelard and Heloïse in Père Lachaise Cemetery?
A writer in The Daily Edge opined, "Think of it as a kind of modern tree-carving or scribbling on a school desk." Well, yes. It is the kind of unthinking, uncaring, ignorant behavior we associate with children and sociopaths but not with responsible adults.
I dunno. Narcissism enables all kinds of appalling behaviors. Consider the 2016 presidential election. But I digress.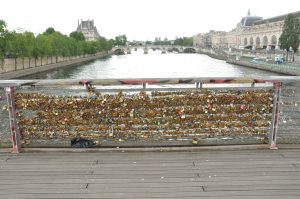 There have been numerous items of reportage on the damage inflicted by these locks on bridges. In 2014 a piece of the Pont des Arts in Paris collapsed under the weight of the locks; that got some attention. It is now illegal to attach locks to bridges in Paris and to sell locks for that express purpose. Rome is trying to put a halt to the practice but it is one more problem in the mountain of preservation problems in that city. Sadly, street vendors do a brisk business and couples continue to vandalize cities, often cities that have welcomed them as guests.
There is a variation on the locks that holds out hope: ribbons. As we strolled across the Léopold Sedar Senghor bridge from Paris' Right Bank to the Left, I prepared to scold a couple of youngsters I could see in mid-crime. And then I realized that they had tied something like a shoelace to the bridge. They giggled and embraced. I walked on. A little ahead, a peddler sold locks and a well-dressed Asian couple attached one to the bridge and tossed the key in the Seine. All this in the immediate vicinity of several signs (defaced and unreadable) stating that such actions were forbidden.
I expressed my anger to the lock-seller who was unfazed and dismissive. I have, however, sworn to myself that I will reprimand every couple I see adding dead weight to bridges or any other public structure, as an expression of love. I am not a religious person, or even a believer, but I am philosophically in agreement with that popular passage from the epistles of Paul (Corinthians 1) in the New Testament: "Love does not dishonor others, it is not self-seeking. It always protects, always trusts, always hopes, always perseveres." And, I might add, "always preserves."
Love is never expressed through locks, Love sure as hell doesn't vandalize.