Marcia Gayle Snee is a wonderful artist and dear friend, so when she said her work had been accepted into a juried exhibition at Harford Community College's Chesapeake Gallery, I was thrilled for her. Curious, also, about just what might be in the exhibition.
Thirty-two artists made the cut; a handful working in more intimate scale had two or three pieces. While painting prevailed, there were a number of works in ceramics, fiber, mixed media and photography. The quality of the works was accomplished; a large number were exceptional. The gallery is small but attractive and well lit. All in all a very good exhibition.
My Short List
I had some favorites, of course. I had seen Marcia Gayle's relief sculpture, Ebony Streams, in progress in her studio. It is powerful, a map, a world, a macroscopic aerial view, a microscopic detail of living tissues.
Carolyn Blazeck's Perching Pot is a tour-de-force of techniques and materials. The engraved and glazed surface reminded me simultaneously of woodblock prints and black-figure Attic Greek vases.
The most compelling figure study or portrait, for me, is Janelle by Elijah Trice. His palette is luminous and golden. Moreover, he has balanced illusionism with the impact of over-life-size scale and the peculiarities of the physiology of sight. The center of her face is presented in fine detail. Look at her ear, though, what I call the "Vermeer ear," which is slightly blurred. Vermeer realized in the 17th century that focus could not be uniformly sharp, that detail where the eyes settle is always crisper than details further away.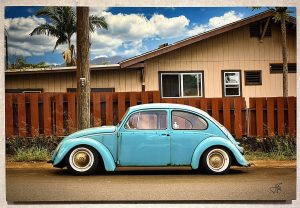 Jason Ritterstein printed his North Shore Dub on aluminum and that glassy surface with its saturated colors and extraordinary composition simply screams "So-Cal in the 1970s." Yeah, it's a picture of a car in front of a fence. But look at that composition. Look at how the planes lock into precise parallels, the way the fence cradles the windows on the wall behind, the perfect profile of that turquoise VW bug. The rigorous perpendiculars of the man-made, however, both contrast and harmonize with the curves of nature, the grasses and palm fronds, the undulating mountainscape, the cottony clouds.
A lot of  wonderful art.
The Educator's Bias
My eye, however, is invariably more critical of the way the work is presented and, most importantly, interpreted, than it is of the quality of the work. My mind goes immediately to the visitor experience and the questions most likely to arise.
Who are these artists? What is their background? Where do they live? Why do they make the kind of art that is on display here?
The Gallery has supplied a price list alongside artist, title, medium and date; otherwise works are identified only by numbers. It is nice that labels do not distract visitors or suggest that verbal information in any way supersedes the visual experience. At the same time, the price list could have been enriched by very brief statements from each of the artists. Something along the lines of "This is how I arrived at this point in my work and these are the things that interest me in my current practice." A couple hundred words. Put two artists on a page and all you need is eight sheets of paper, printed on both sides.
Nor is there any kind of curatorial statement. Who decided on a hundred-mile radius of the college for the solicitation? Who were the individuals on the jury? How hard was it to narrow down four hundred or so submissions to thirty-seven objects? What criteria were shared and what were criteria that came into conflict? Photocopy the curatorial statement and artists' statements in budget-friendly booklets to be used only in the space.
The Great Gaping Hole of Absence
Most of all—and this is just so obvious—exactly what is the geography within one hundred miles of Harford Community College? What is the distribution of the artists in that circle? Here's a map. If I, in all my digital incompetence, could find instructions on how to make such a map, surely some of those computer-savvy folk on campus could do the same?
After almost five decades of teaching art history, working in art museums, and generally hanging with artists, I know one thing for certain. People have questions when they encounter art and most of those questions are entirely predictable. Moreover, they enjoy the exhibition experience more, get more out of the art, if those questions are anticipated and answered.
Pleasure Is The Best
And people who have a good time at an art exhibition are far more likely to go to another exhibition, another gallery, another museum.