Outside the little flagstoned-floor solarium in this thatched cottage, one of three surviving buildings of the catastrophic fire of 1793, the last of the freesias and dahlias and hollyhocks sway under soft clouds and glimpses of pale blue sky. It is quiet. I hear to occasional coo of a dove and the quiet gusts the wind. Once in a while a car passes by, audible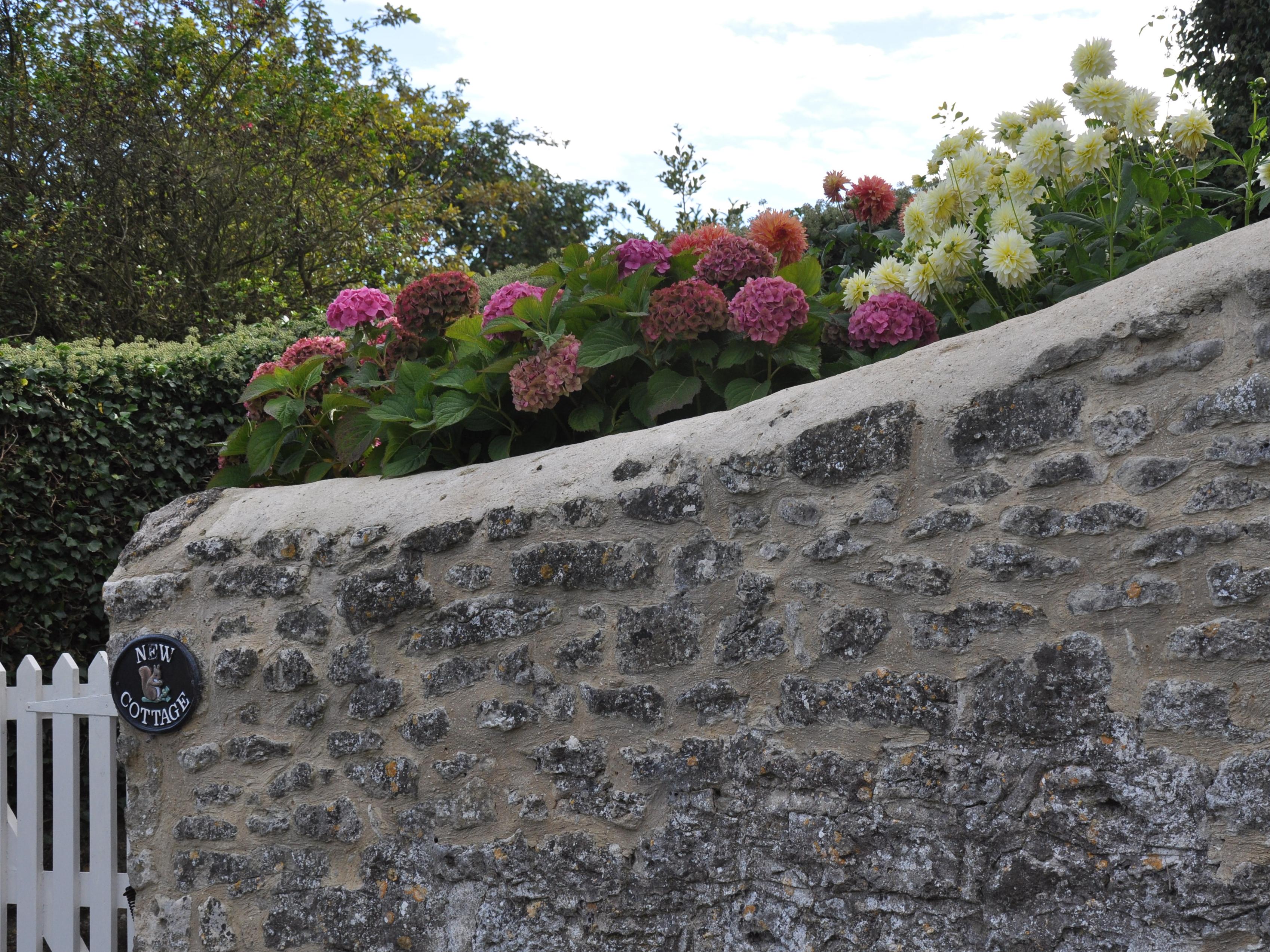 because New Cottage is separated from the scant two lanes of Middle Road by a narrow walkway. Middle Road is the village high street and barely accommodates two cars. There are few houses with driveways or garages, so each evening a line of vehicles snuggles up against the high stone verge of the walkway. I am the driver in rental cars. No reason to pay the punitive surcharge for a driver over 70 and anyway my Dear One is expert at navigation, almost as good as the portable GPS we brought with us this time. I let him out and then he guides me into place, lest we scratch the doors of our little gray Mercedes-Benz (certainly one of the nicer compact cars we have ever rented) and give Europcar reason to charge us more.
Songbirds I cannot identify are somewhere nearby, their conversation rising and falling, now assertive, now confiding. Two perfectly enormous doves—from here they look to be the size of pheasants—argue over ownership of the weathered wooden table under the apple tree.
After confinement to seats 26 A and B of an Airbus, treatment surely outlawed by the Geneva Conventions, we drove from Heathrow to the village of Stanton St. John outside Oxford. It would have been a shorter drive if we had been able to negotiate the Headington roundabout. Roundabouts are fine; unlike many who carp about this method of traffic control, I kinda like them. The Headington roundabout, though, is a monster, a chimaera of roundabout, intersections, traffic lights, conflicting signage and traffic. Repeated failures and several loops through the same section of housing development later, though, we found ourselves in quiet farmlands marked by a welcome sign bearing the legend "Stanton St. John."
This morning, the second full day into our voyage to witness the nuptials of Samantha's son Robert, I sit in the quiet with my tea and toast. The weather report is hopeful, some sun and a high of 67. I will let my Dear One rest a few minutes longer. Then I think we will be off to Blenheim Castle.