This cruise on the Sea Cloud–History and Gardens of the Caribbean–coordinated by Academic Arrangements Abroad, will be almost certainly a once in a lifetime thing. First of all, there's the cost. We are never likely to have that kind of disposable income; had the boat been the Sea Cloud II or some other vessel rather than the Sea Cloud (see earlier posts), we never would have gone at all. My Dear One has no affection for the sensation of the sea; neither he nor I have much appreciation for sun, seashores, or shopping. We do like gardens and historic sites, though, and the chance to be on the Sea Cloud under sail? Well, read the earlier posts.
This final summary benefited from the indulgences of extravagance. Each evening, a four-page brochure laid out the next day's schedule and activities. The sheets were helpful for keeping track of events; in retrospect I am grateful for the detailed notes, which I consulted at length in writing this.
I'll try to keep it brief. No, really, I will. Islands are rated on a scale of one to five palms.
Sunday, January 12: Embarkation, St. Johns, Antigua. It was all about getting aboard and settled, attending the safety drill, and swilling champagne. Antigua was out of sight and out of mind by six o'clock that evening.
Monday, January 13: Gustavia, St. Barthélemy in the Leeward Islands, French West Indies. We didn't go swimming and we couldn't even imagine shopping (beyond the acquisition of a pair of extremely expensive Panama hats). Apparently this island is a haven for the rich and those who like looking rich. Fodors points out that "St. Barth is a duty-free port, and…shopping in the island's 200-plus boutiques is a definite delight, especially for beachwear, accessories, jewelry, and casual wear. It would be no overstatement to say that shopping for fashionable clothing, jewels, and designer accessories is better in St. Barth than anywhere else in the Caribbean." Yeah. Well. Having bought our chapeaux, we visited historic St. Bartholomew's Anglican Church, a tiny building with Christmas crèche still in place, strolled to Shell Beach and then circled the harbor to the Wall House Museum, a history museum. It's a fine old building that dates to the Swedish occupancy of the island, about 1784-1878. Wall labels are written in French although there is a book with texts helpfully translated into English. My mal de mer had subsided between the leaching of drugs into my system from the Scopolamine patch behind my ear and the stability of the ground beneath my feet. We grabbed the next tender back to the Sea Cloud—and a rough embarkation and ride it was. 2 palms.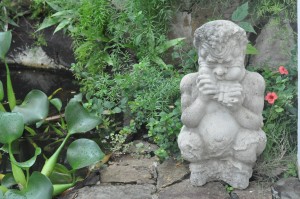 Tuesday, January 14: Road Town, Tortola, the British Virgin Islands. This is a place of gardens and history, although I understand from several disgruntled persons that there is excellent shopping there if one were to have the time. Pusser's Landing Restaurant and Store is apparently something I should not have missed. I don't feel deprived. though. Safari trucks collected us at the harbor's edge and carried us away to the Old Government House Museum and subsequently to the J.R. O'Neal Botanical Garden, which was followed by a ride up the mountain and past a marvelous wall muraled with scenes of native (Afro-Caribbean) life and the island's history. The houses on the hillsides seem most of them about to slide off their footings and tumble into the valleys; there is no angle from which their foundations look level. I heard grumbling about excessively long and somewhat disorganized tours and the relevance of the scenic jaunt. I just wish we had had the chance to get out and take pictures from some of those hill tops. I quite liked the place. Nice people, easy-going atmosphere, lovely gardens, lots of chickens. Nice place. 3 ½ palms.
Wednesday, January 15: Spanish Town, Virgin Gorda, the British Virgin Islands. This is the place to go swimming. We were warned about the likelihood of invading Italians from the cruise ships, but none materialized. The morning crowd headed for The Baths, a beautiful beach with ample shade around the edges noted for the gigantic granite boulders strewn around, evidence of volcanic cataclysm eons ago. Snorkeling gear was provided by the ship, and I brought some, but I can't see without my glasses and I can't fit the mask over my glasses, so looking for fishes was abandoned in favor of lolling the (thankfully) cool waves. The white sands attest to the islands coral foundations and I was startled by the force of the surf that rolled me landward over raspy, sharp-edged rocks. Still, it…was…just…glorious. And birding might be fun here. The afternoon tenders dropped travelers in North Sound for more swimming and snorkeling, and options of shopping and drinking. We put our feet up and used the time for reading, to "lime" as the locals say. For swimmers and photographers, this is certainly worth 4 palms; for groups with mixed interests, maybe only 3.
Thursday, January 16: Oranjestad, Sint Eustatius, Netherlands. Statia was lovely. The description "little visited" means that the town is shaped by the normal forces of history, weather and community, rather than the vagaries of tourism-driven commerce. The graceful form of the volcano Quill rises precipitously overhead. We walked around town with an excellent and scholarly guide, stopped at the reconstructed remains of the Synagogue, visited the Historical Museum, and walked through a ruined Dutch Reform Church and the old fort. The history of the island is complicated and melancholic but interesting. There are beaches of dark volcanic sand and colorful wooden houses. If one were to want some R&R in a place serene and warm, this just might be the place to go. Beware though—some developer is putting up a (comparatively) enormous hotel down near the harbor. I liked it here. 4 palms.
Friday, January 17: Charlestown, Nevis, on St. Kitts and Nevis. There's a great big volcano with a wide caldera on the island, Nevis Peak—but like most Caribbean volcanoes, apart from the one on Montserrat, it's restful under a carpet of tropical foliage. Saw little of the town except what was visible from our safari truck. The visit was a whirlwind round of the Alexander Hamilton Museum, the Horatio Nelson Museum, the Botanical Garden and the gardens of the Golden Rock Inn. Frankly, the museums are a bit of a blur, but Nevis is rich is historical and cultural sites, and a slower pace would have helped us. Beauty belonged to the gardens, however. The Botanical Garden is on the grounds of Montpelier, the estate where a young Horatio Nelson, eventual hero of Trafalgar, met and married the beautiful young widow, Fanny Nisbet, who perhaps should have been but wasn't the love of his life. The plantings, spaces, fountains and sculptures are all magnificent. The Golden Rock Inn on the lower slopes of Nevis Peak is small (eleven rooms) and clearly way out of our price range. We didn't see any of the green vervet monkeys said to swarm the place, nor many birds, but both are considered draws. The Inn actually belongs to American painter Brice Marden and his wife Helen, who discovered it in an early, more ramshackle incarnation when they were looking for a less congested and fashionable alternative to St. Barts. They worked with the landscape architect Raymond Jungles to design the gardens (more about colorful foliage than bright flowers) and the meandering paths seem to owe something to the calligraphic lines in Marden's art. For history and garden buffs, Nevis is an easy 5 palms. We definitely needed more time than we were allowed.
Saturday, January 18: Terre de Haut, Îles des Saintes, France. Terre de Haut was by far our favorite island. The town is small, bustling, not too expensive and boasts a fabulous ice-cream stand with a spectacular array of tropical flavors. Apparently one has to watch out for daytrippers from nearby Guadeloupe. We took the ride up to Fort Napoléon—who in their right mind walks that long and terribly steep road?—and could only have wished that the other people would go away. The views to other islands and across the sea are mesmerizing; the breezes keep you cool; the dry soil and the succulents make welcome iguanas and birds. The Fort includes a very good museum focused on matters maritime and naval. As usual, we were too tired to do displays much justice—and displays with their iffy lighting and text panels printed in small, faint type on yellowing stock are strenuous reading—even those in English. For us this is definitely 5 palms.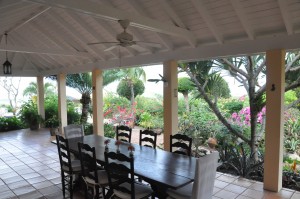 Sunday, January 19: St. Johns, Antigua. As we got onto buses, we bade farewell to the Sea Cloud. Our bus was the "blue" group, the ones leaving before lunch to take the flight to Newark. On a Sunday morning, the town looked quiet and shuttered. People seem to like Antigua—several passengers came to the island a day or so ahead of embarkation on the Sea Cloud; one or two others had scheduled an end-of-cruise stay. We would visit a pair of private gardens: Barbara Japal's remote hilltop paradise filled with geckos and hummingbirds and flowers of all kinds and Body Pond Too, a surprise tucked away in an ordinary neighborhood of ordinary properties. The name of the latter seems to gently mock the fabulous Body Pond estate, occupied at various times by such luminaries as the actor, Richard Burton. The owner of this sunshine-yellow house with its lily ponds and wonderful plantings is an Afro-Caribbean gentleman with a sweet demeanor, broad smile, and boundless love for plants and creatures. How do you get to see these places on your own? I have no idea. I'll give Antigua 3 ½ or maybe 4 stars. I know people love the place—I am just not sure whether I want to fall back on beaches and shopping for entertainment.