Kate contacted me out of the blue. Her email said,
I have just been given an old box with a label on the top with "Laura A. Wavle, 11 Story Street, Cambridge, Mass".  I'm wondering if you have anymore information about her and whether she lived her life in MA, or did she ever travel to CT or NYC.  Did she have a shop?  There are dominos in the box.
I'm just curious how this turned up in my father's belongings but not very optimistic of figuring it out.
My genealogical paper trail online had provided Kate with my contact information. Thank goodness it did.
Laura A. Wavle, Confectioner
Laura Alice (Macey) Wavle (1864-1934) was my paternal great-grandmother, the mother of my father's mother. What I know about her is a mix of facts and mysteries. Now I had another mystery to add to her biography. By 1912, the year before she was widowed, she was living in Cambridge, Massachusetts at 47 Irving Street. She and her two daughters were in residence at 11 Story Street in the spring of 1919 when Hazel's fiancé David Sanford Cutler, my grandfather, was in town for the big parade in Boston.
Somewhere along the line, almost certainly prior to 1917, Laura started up a confectionary business, turning an ordinary skill into a business. By 1921, the shop was relocated to 33 Brattle Street. Surely it was the fragrance of sugar that explains the introduction of a young man, David Sanford Cutler, with a sweet tooth to a girl, Hazel Harriet Wavle, who tended the counter at her mother's store.
In September 1917, on the eve of shipping off to the Western Front, David sent his mother a letter and a bundle of pictures. Please, he said, would she send a few copies to Hazel at 106 Trowbridge Street in Cambridge?
I had assumed Trowbridge Street to be a residential address. Today the address is a triple-decker wood frame house, almost certainly built around the turn of the 20th century. It could, however, have been the location of the shop from the mid-teens to 1920. The ground floor might have functioned as a retail space with a kitchen in back. It was also only a block away from the home on Irving Street.
The New Mystery
Why, though, would Kate's father have an ancient box with Laura's label on it. Why would a candy box be packed with eighteen beautiful old dominoes when a basic set is twenty-eight? And why had it been kept safe all those years?
An exchange of emails and a few ancestral facts later, I determined that Kate and I are 8th cousins once removed, both descendants of Thomas Andrew Sanford the Immigrant who arrived in the Massachusetts Bay Colony in 1634. That relationship actually has nothing to do with this story. Despite my best efforts, I could not find, among her paternal ancestors, a reasonable candidate for a purchaser of Laura Wavle's candies. No World War I veterans, no Amherst College graduates, no wooers of Geraldine Ruth, the youngest child.
Don't Forget the Ladies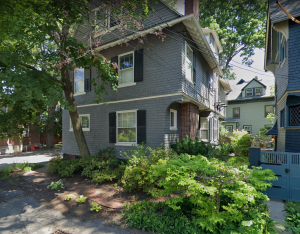 I took a look, therefore, at the maternal line, for which Kate had provided no information. Her mother had passed away in 1983, a young fifty-four. A wedding notice in the Burlington (VT) Daily News, helpfully provided the names of both of her grandparents. From there a simple search zeroed me in on the grandfather who was Professor Irving Babbitt (1865-1933) of Cambridge, Massachusetts. Professor Babbitt's name, was not unknown to me as a scholar of French language and literature and founder of the "New Humanism" that was so formative an influence of the contemporary essayist, George Will.
Where did Professor Babbitt and his family live? Why at 6 Kirkland Road, a stone's throw from both the Wavle home at 47 Irving Street and the putative first store at 106 Trowbridge Street. Harvard Yard, where one assumes the professor spent most of his days, was only a pleasant stroll from Wavle's Candy Store at 33 Brattle Street.
A View Through Time and Space
I love to invent my own conclusions, however imaginative, from maps and timelines.
I think Laura, a widow in straitened circumstances, put her kitchen skills to good use during the second half of the 1910s, selling sweets to neighbors and passers-by—among whom might have been Professor Babbitt and family. Around 1919—a sign of success?—Laura moved the shop across Harvard Square to 33 Brattle Street and her home to nearby 11 Story Street. Son Leon had married and moved away in 1917. Hazel wed David on 11 October 1919 and was off to the wilds of Nashua, New Hampshire. Ruth, the baby, would marry a man from Ohio in 1923.
In 1926, when David died, Hazel returned to Story and Brattle Streets with two toddler sons. In 1930 she remarried and removed to Boston's South Shore, where eventually her son Calvin would meet Priscilla, who became my mother. But that is a tale for another day.
Laura passed away in 1934. Her body was returned to upstate New York where she was interred at the Cortland Rural Cemetery, Section W, Lot 28.
In My Dreams
The fantasy I have woven from these few facts is sweet. The estimable Professor Babbitt takes a fancy to the Widow Wavle's candies, having discovered them almost in his own backyard. When the store moves to Brattle Street, not an inconvenient location for a Harvard faculty member, he remains a devoted customer.
Professor Babbitt also enjoys a game of dominoes and teaches his children–and perhaps even a small granddaughter–to play. Eighteen of those dominoes, housed in an old box from Laura Wavle's Candy Store, become a cherished memento after grandfather is gone. When granddaughter's life has come to an end, box filled with dominoes remains undisturbed among the personal things her husband preserves.
Until 2022 when Kate finds me and gives me a relic of lives past that touch both of us.